RoxiMalfoy [
Contact
]
17 Jan 2017
https://hpfanfictalk.com/topic/2644-roximalfoy/
If you would like to know more about me or my wrting, feel free to come visit me in my Writer's Journal at the link provided above!! I looveee questions, and am always more than happy to discuss anything LNW related with you!!! ;)










WRITING AWARDS







2018 FROGS Awards: Best Original Character




Roxi Zaroni in Love, Not War - 3rd Place Winner!!







2018 FROGS Card graphic by abhorsen./Branwen







2018 Slytherin MFWHAT Award: Best Careful Handling of a Snake




Draco Malfoy in Love, Not War - 1st Place WINNER!!







2018 MFWHAT Award graphic by beyond the rain










June 2017 Slytherin OTM Award by: PaulaTheProkaryote ~*~ January 2018 Slytherin OTM Award by me: RoxiMalfoy










"Love, Lot War" was one of HPFT's Featured Stories in May 2018!! (award graphic by abhorsen./Branwen)



Rated:
•
156
Reviews
Summary:
Awards for Love, Not War:
2018 FROGS Awards: Best Original Character
Roxi Zarooni in Love, Not War - 3rd Place Winner!!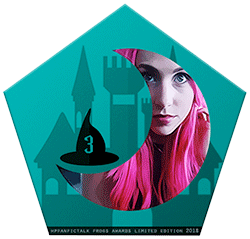 Limited Edition FROGS Card graphic by abhorsen./Branwen
2018 MFWHAT Award: Best Careful Handling of a Snake
Draco Malfoy in Love, Not War - 1st Place Winner!!
My Father Will Hear About These Graphics made by: beyone the rain/Bex.
June 2017 Slytherin OTM Award by: PaulaTheProkaryote ~*~ January 2018 Slytherin OTM Award by me: RoxiMalfoy
"Love, Lot War" was one of HPFT's Featured Stories in May 2018!! (award graphic by abhorsen./Branwen)
Reading Love, Not War:
*For those would prefer to read the series chronologically, here is a list that explains the order that everything should go in:
1: Doing the Right Thing – To be read first, before anything else, OR this one can also be read at any time BEFORE you get to Chapter 6: Under Arrest in LNW).
2. Love, Not War – The MAIN Novel; which can be read first, second, or third, depending on how chronological you wish to be in your reading of this series. (It\'ll all make sense in the end either way.)
3. Perfect – May be read at any point AFTER finishing Chapter 4: Unexpected Visitors of LNW.
4. Born A Leader – Not to be read at until AFTER reading Chapter 8: A Drop of Veritaserum of LNW.
5. One Day At A Time – May be read at any time after my OC, Roxi Zarooni, has been introduced in Chapter 9: False Accusations of LNW.
6. The Ultimate Betrayal – NOT to be read until AFTER you have finished reading Chapter 10: The Spy of LNW.
7.
Like Breadcrumbs, by Rumpelstiltskin
- A Saleena/Sirius spin-off that can be read anytime after finishing
Chapter 4:
Unexpected Visitors
of LNW & after reading the companion piece One-Shot
Perfect
.