Member Since:
17 Jan 2017
Membership status:
Member
Bio:
If you would like to know more about me or my wrting, feel free to come visit me in my Writer's Journal at the link provided above!! I looveee questions, and am always more than happy to discuss anything LNW related with you!!! ;)
WRITING AWARDS
2018 FROGS Awards: Best Original Character
Roxi Zaroni in Love, Not War - 3rd Place Winner!!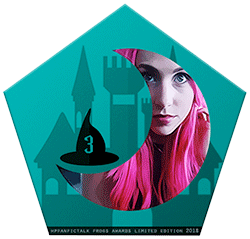 2018 FROGS Card graphic by abhorsen./Branwen
2018 Slytherin MFWHAT Award: Best Careful Handling of a Snake
Draco Malfoy in Love, Not War - 1st Place WINNER!!
2018 MFWHAT Award graphic by beyond the rain
June 2017 Slytherin OTM Award by: PaulaTheProkaryote ~*~ January 2018 Slytherin OTM Award by me: RoxiMalfoy
"Love, Lot War" was one of HPFT's Featured Stories in May 2018!! (award graphic by abhorsen./Branwen)